Spirobank II Spirometer Basic MIR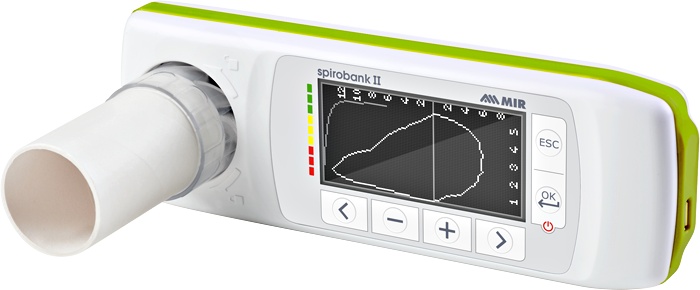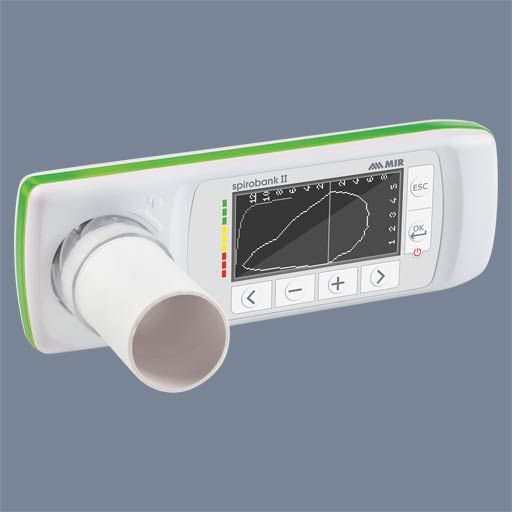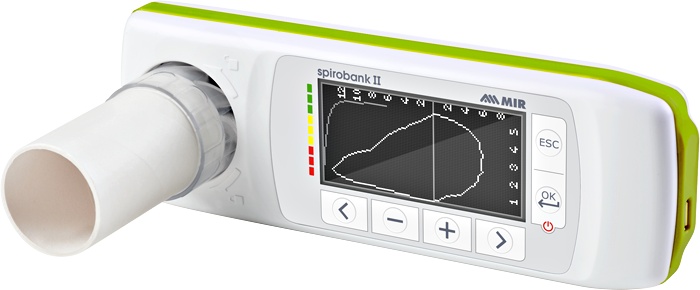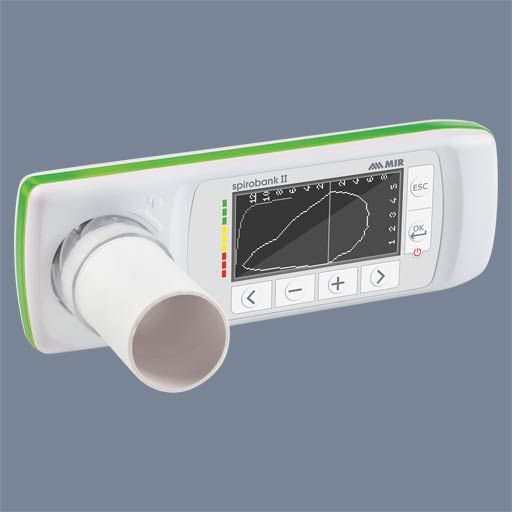 The new Spirobank II MIR is a user-friendly, intuitive to use mobile ...
Free shipping from € 100 excl VAT (only NL)

If ordered in stock before 3 pm, shipped the same day

Both for the professional and the consumer

Discounts of up to 25% for practitioners or general practice centers

Your practice can order on account
Spirobank II Spirometer Basic MIR
Spirobank II Basic New
The new Spirobank II MIR is a user-friendly, intuitive to use mobile spirometer with sufficient storage for recording up to 10,000 tests and enables an instant diagnosis thanks to the traffic light display. Thanks to the spirometric waveform in real time the results can be evaluated directly on the device.
New Spirobank II is available with a calibrated disposable turbine. Additional calibration is no longer required. The turbine itself is packaged and calibrated.
The spirobank II basic is not affected by:
Temperature

Humidity

Air pressure

The Spirobank II meets all the conditions required for the purchase of a spirometer.
Product features:
 
Portable spirometer with high-resolution display

Quick and intuitive to use thanks to function keys with symbols

User-friendly

Backlighting makes the deployment during emergencies possible

Traffic light display

Analysis of spirometry directly on the display

Storage for up to 10,000 examinations

Integrated, powerful battery (40 hours)

USB connection for data transfer

Estimated lung age (ELA)

Motivational pictures for children

Available with either reusable or disposable turbines

WinspiroPRO software
Technical specifications:
Measurement parameters: FVC, FEV1, FEV1%, PEF, FEF25-75%, FET, EVOL (extrapolated volume), ELA (estimated lung age), VC, IVC, IC, ERV

Backlit LCD display, resolution: 160 x 18

Rechargable 3.7V lithium battery

Temperature sensor: semiconductor (0-45°C)

Flow sensor: digital bi-directional turbine

Volume: 10 L

Dimensions: 16.0 x 5.5 x 2.5 cm
If the spirometer with the PC software winspiroPRO is connected via the USB cable, the following tests and parameters can be measured:
FVC, FEV1 (one second value), FEV1 / FVC (Tiffeneau), FEV1 / FVC, PEF, FEF25, FEF50, FEF75, FEF25-75, FEF75-85, lung age and extrapolated volume, FET, Time to PEF, FEV0.5, FEV0 .5 / FVC, FEV0.75, FEV0.75 / FVC, FEV2, FEV2 / FVC, FEV3, FEV3 / FVC, FEV6, FEV1 / FEV6, FIVC, FIV1, FIV1 / FIVC, PIF, FIF25, FIF50, FIF75, FEF50 / FIF50, VC, IVC, IC, ERV, IRV, f, VE, VT, tI, tE, VT / tI, tE / Ttot, MVV (measured), MVV (calculated)

Post-bronchodilator FVC

FVC provocation tests (after methacholine or histamine)

VC (slow vital capacity)

MVV (maximum voluntary ventilation)
WinspiroPRO software
Compatible with Windows 7, Windows 8, Vista and XP

User friendly

Innovative interface

Results and diagrams can be sent via e-mail

Curves and tests can be displayed in different formats, eg. Word, Excel, Adobe Acrobat, HTML

View and compare all curves and calculation of the measured delta values

 

Z-score (GLI 2012)

The Spirobank II comes with a nose clip and carry pouch.
Available options:
 
The spirometer is to be used with a turbine. There are two available options:
The reusable turbine obtained in conjunction with the purchase of this product can be given with a big discount. With this turbine paper mouthpieces are used.
Disposable turbines wrapped in plastic: FlowMir disposable turbines - 60 pieces. These are complete incl. mouthpiece. No paper mouthpieces required.
Reviews for:
Spirobank II Spirometer Basic MIR
This product has no reviews yet.