Lifeline View AED Sale with cabinet
Article number: D:Lifeline View AED Sale met kast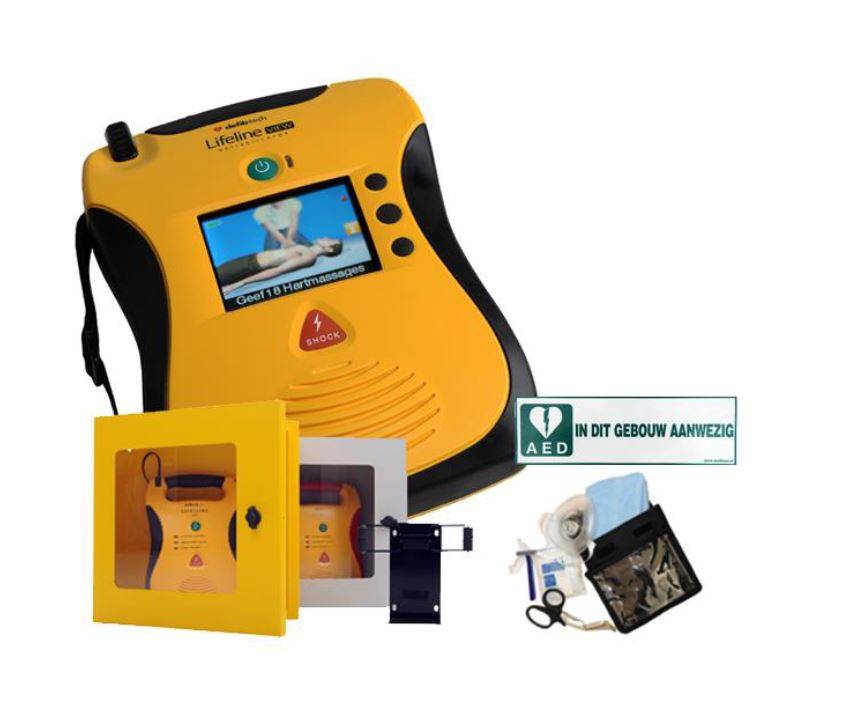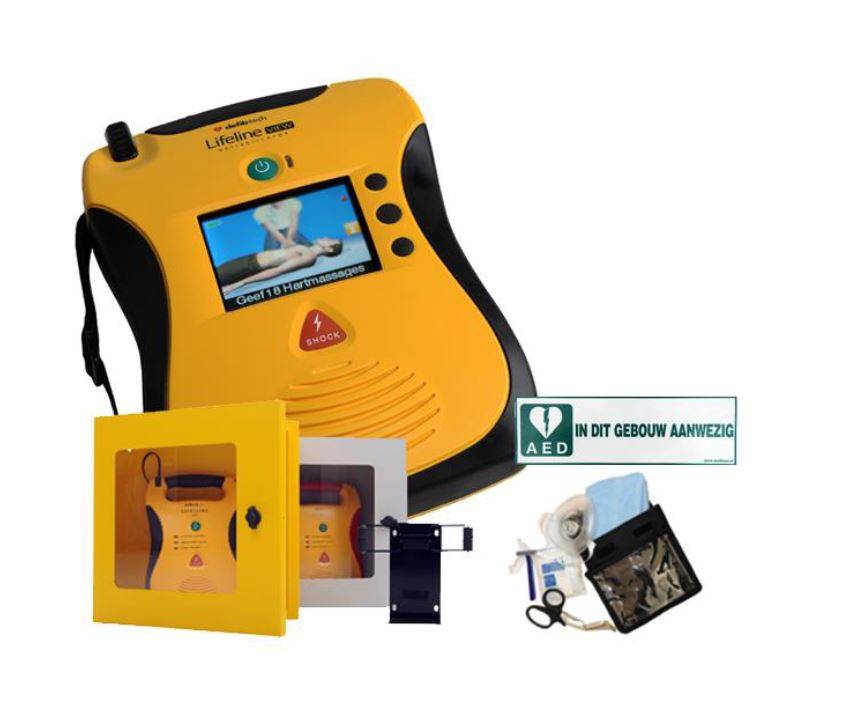 Free shipping from € 100 excl VAT (only NL)

If ordered in stock before 3 pm, shipped the same day

Both for the professional and the consumer

Discounts of up to 25% for practitioners or general practice centers

Your practice can order on account
Lifeline View AED Sale with cabinet
AED Action - Defibtech® Lifeline ™ VIEW AED offer with LCD Screen
Semi-automatic AED operation Defibtech Netherlands. Meet the Lifeline View AED. The latest generation AEDs that brings convenience to a whole new level. Where other AEDs to do what you just tell the VIEW AED late first and only defibrillator you see this screen. It is the first and only AED equipped with a full-color interactive display that the user using video step-by-step how to perform CPR, rescue breathing and defibrillation. The Lifeline VIEW AED makes use of a high-quality full-color screen. In addition, the Lifeline VIEW AED is an ultimate combination of innovative technology and practical design. An AED as you have never seen before.
The AED offer is valid while stocks last. The Lifeline VIEW AED is also available in the following languages: English Dutch and Dutch-French. Other languages ​​on request.
Take this AED package offer Your defibrillator action benefit is € 110.00.
The AED offer includes a direct-use Lifeline VIEW AED and comes with:
Carrying receivers for Defibtech Lifeline View AED.
Safeset.
Universal bracket AED.
AED window sticker "AED present in this building"
An AED user manual.
Tutorial Defibtech Lifeline AED VIEW
The Defibtech® Lifeline ™ VIEW AED summarized
Sturdy design and grip.
Light and compact.
No cover or loose parts, making a bet can be delayed.
On button directly accessible for quick relief.
Pre-connected AED electrodes.
Two-button operation for simplicity.
Full-color video display for optimal support.
Warranty of 8 years.
Specifications Lifeline VIEW AED:
Battery concept
Maximum standby time, 4-year, 125-shocks, 8 hours operational time continuous.
waveform AED
Lower energy causes less damage to the heart. (150J-150J-150J) There are no studies that support that higher power output leads to higher survival rate.
Analysis capabilities of your AED
Continuous cardiac monitoring of the patient even during resuscitation and charging. If the patient's heart rhythm returns while charging, the Lifeline VIEW AED to cancel shock. The AED compensates for children (i.c.m. pediatric pads ddp-200p), pacemakers and movement. The Lifeline VIEW AED has been tested on more than 1,000 heart rhythms.
Technical specifications
IP5X for dust resistance.
IPx5 for water resistance.
Tested in accordance with military standards for shock and vibration resistance.
Jet and helicopter tested.
Use the data-card, can be stored up to 3 hours of ECG and nearly 2 hours of audio data.
Internal storage> 60 minutes of ECG data.
Free & Easy Upgrade
New CPR guidelines.
Any required software changes.
AED electrodes
The electrodes are integrated and connected to the AED. (Pre-connected)
Verification of the presence and shelf life of electrodes.
Children Electrodes available.
Use Data readout
Data-card records usage data, and may aid of Free software can be read on any Windows PC.
Available for download on the website.
Complete picture of ECG data and decision moments of the AED as analysis and shock advice.
Simple and user friendly.
Data transformation is done using data cards or mini-USB.
training Capabilities
The Lifeline VIEW AED is not available as a separate training unit.
The Lifelline View AED is easy to change using an SD card with specific programs in a demo version.
The Lifeline VIEW AED is available in the following languages
Dutch, German, English and French. Other languages ​​on request.
Reviews for:
Lifeline View AED Sale with cabinet
This product has no reviews yet.