Alsatom 140 D-MPC coagulator
Article number: XV112474 + XV112475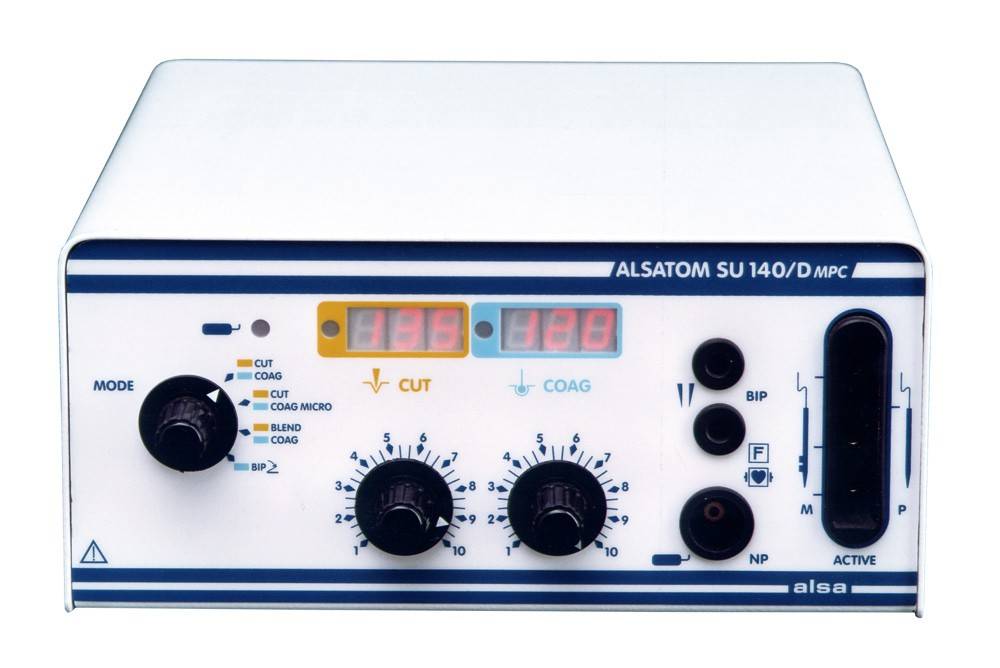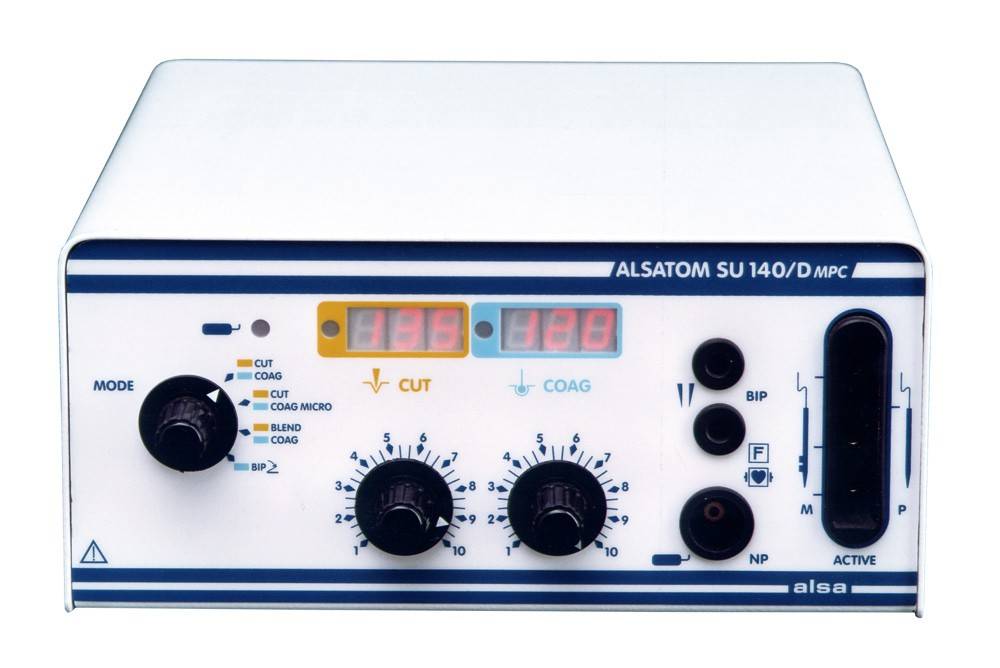 The Alsatom has a double foot switch for the activation of the cutting and coagulation
Free shipping from € 100 excl VAT (only NL)

If ordered in stock before 3 pm, shipped the same day

Both for the professional and the consumer

Discounts of up to 25% for practitioners or general practice centers

Your practice can order on account
Alsatom 140 D-MPC coagulator
The SU 140 D-MPC is the most complete model of the series. Like the 140 MPC, this coagulator has two separate controllers and can be operated with a manual switch. But also an eye-catching feature that is not common in small surgery units: a double foot switch for the activation of cutting and coagulation. This makes the SU 140 D-MPC the ideal solution for small operations.
The Alsatom MPC system is a new generation of electrosurgical devices, equipped with the latest digital technology. These devices are equipped with five currents, each with an electronically controlled start pulse for optimum results and a minimum output power. The flows are:
CUT: without modulation for a clean cut without hemostasis.
BLEND: modulated combination of streams for cutting and hemostasis for coagulating cuts.
COAG: a high voltage "fulguration" for coagulation without contact and with a strong superficial effect. It is essential for many surgical needs.
MICRO: a low tension "pin-point, soft", extremely accurate with excellent depth effect (eg for hair removal in dermatology).
BIPOLAR: without modulation and highly accurate "micro" coagulation.
Technical specifications:
CE 0051 certified in accordance with IEC601-1 and IEC60601
operating frequency: 475 kHz
mains: 220V 260VA
microprocessor control with autodiagnostic function, automatic dynamic
dimensions: L23 x P24 x H10 cm
weight: 4,750 kg
double pedal operation: cutting / coagulation
possibility of a manual control stick
5 operating modes: (W) - (ohm) - (V) - CF:
CUT: 140W - 500 ohm - 1200V - CF1.7
BLEND 120W - 500 ohm - 1450V - CF2.8
COAG 120W - 500 ohm - 2770V - CF6.9
COAG micro 60W - 200 ohm - 1420V - CF2.8
BIP COAG 100W - 100 ohm - 400V - CF1.4.
With standard accessories:
double control pedal (COAG-CUT)
autoclavable electrode cable L2.5m
knife electrode (Ref 2E1)
needle electrode (large (Ref 1E5)
needle electrode (fine) (Ref 1E7)
button electrode diameter 2.5 mm (Ref 1E12)
button electrode diameter 4.0 mm (Ref 1E14)
neutral electrode and stainless steel with 2.5 m cable (Ref 1IEP / 9)
Neutral electrode mounting strap (Ref 1FFE).
Reviews for:
Alsatom 140 D-MPC coagulator
This product has no reviews yet.