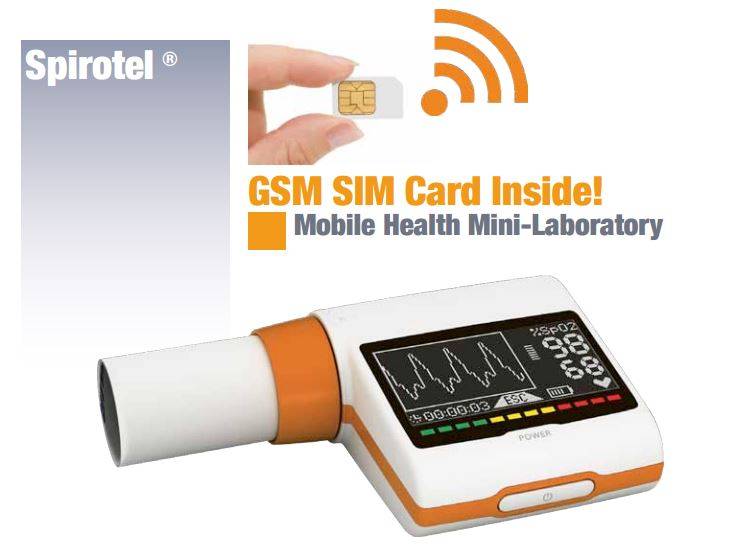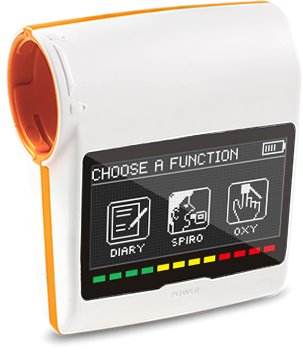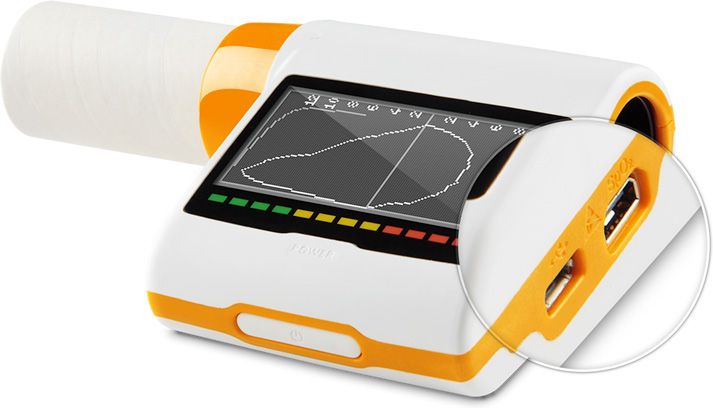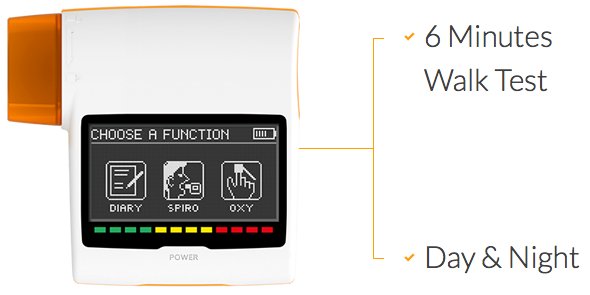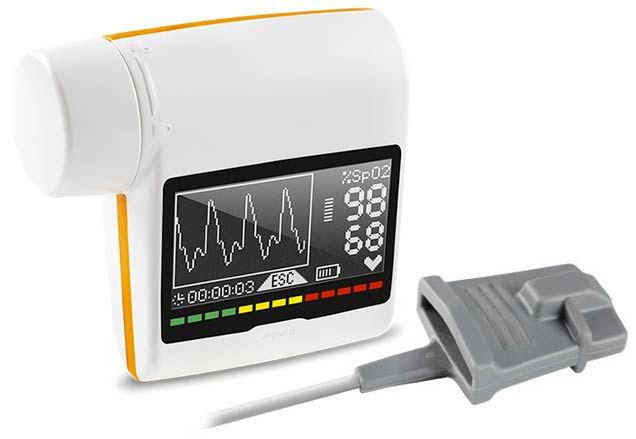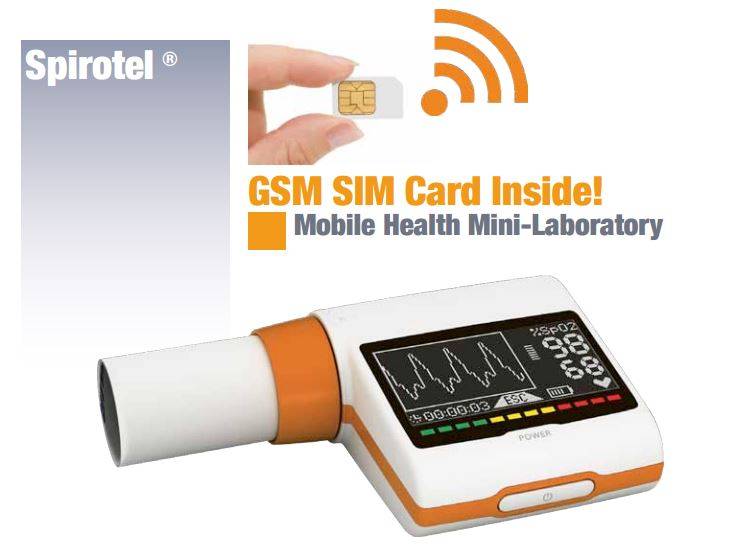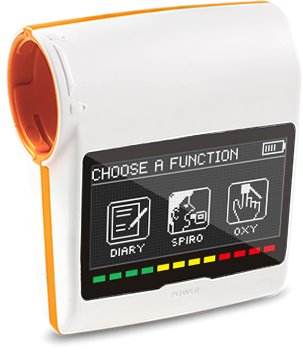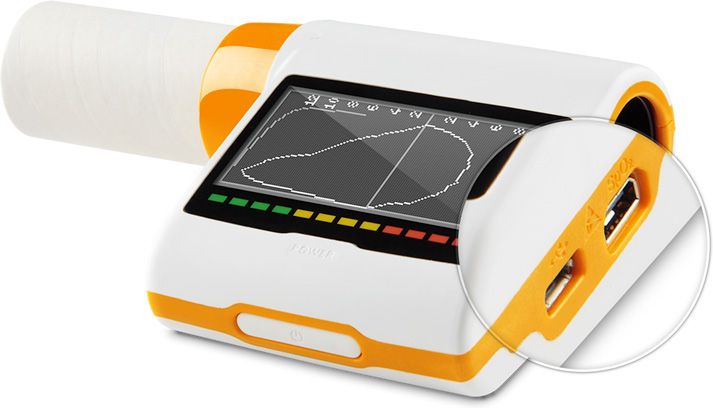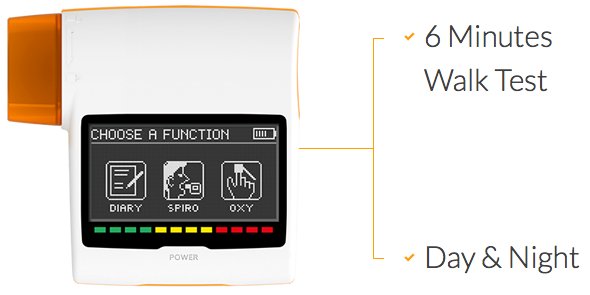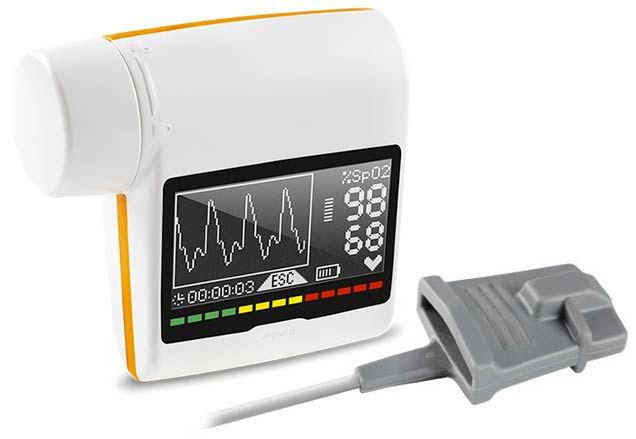 Pocket size homecare device for a complete respiratory analysis.
Free shipping from € 100

If ordered in stock before 3 pm, shipped the same day

Both for the professional and the consumer

Discounts of up to 25% for practitioners or general practice centers

Your practice can order on account
Spirotel Spirometer
Pocket size homecare device for a complete respiratory analysis.
Touchscreen spirometer, Oximeter® 3D Pulse Oximeter, Triaxial Accelerometer, Diary of Symptoms.
Spirotel® is an ideal tool for home care and telemedicine. 
Ideal for home care and telemedicine.
The intuitive interface and the electronic diary helps the patient perform the tests him or herself. Transferring the results is simple and straightforward using the USB and bluetooth options.
Spirotel® has been already chosen for numerous clinical trials and is also designed for research organizations, or CROs (Contract Research Organization). The key lies in its extreme flexibility.
In this sector, the instrument's excellent customizability is a great advantage, so it will come as no surprise that Spirotel® has been adopted by several companies as an OEM (Original Equipment Manufacturer). 

Product specifications:
 
Display: Backlit LCD Touch screen (resolution: 160x80), with "traffic light" indication
Power supply: Rechargable lithium ion battery 3.7V, 1.100mA
Battery works for 40 continuous hours
Data transfer: USB 2.0, (Bluetooth® optional)
Accelerometer: Triaxial ± 2g, 400Hz sampling.
Memory: non-volatile flash memory (with a capacity for more than 10.000 spirometry tests)
Alarms type: multiple alarm settings with automatic ON switch for session reminders
Reconfigurable data (alarms, threshold etc)
Dimensions: 92x88x38mm
Weight: 124g
Removable turbine (reusable): 89x35mm, 20g
Battery charger (optional): 100VAC - 240VAC, 50Hz-60Hz
Output 5VDC, 500mA, micro USB type B
Flow sensor: digital bi-directional turbine
Flow range: ±16L/s
Volume accuracy: ±3% o 50mL, whichever is greater
Flow accuracy: ±5% o 200mL/s, whichever is greater
Dynamic resistance at 12L/s: <0.5cmH2O/L/s
Temperature sensor type: digital (0-45°C) for automatic BTPS conversion
3D Oximeter ® (optional)
SpO2 range: 0-100%
SpO2 accuracy: ±2% (50-100% SpO2)
Pulse rate range: 20-254BPM
Pulse rate accuracy: ±2BPM or 2%, whichever is greater
Parameters:
 
FVC, FEV1, FEV1/FVC%, FEV3, FEV3/FVC%, FEV6, FEV1/FEV6%, PEF, FEF25%, FEF50%, FEF75%, FEF25%-75%, FET, Estimated Lung Age, Extr. Vol., FIVC, FIV1, FIV1/FIVC%, PIF, VC, IVC, IC, ERV, FEV1/VC%, VT, VE, Rf, ti, te, ti/t-tot, VT/ti, MVV measured, MVV calculatedSpO2 [Baseline, Min, Max, Mean], Pulse rate [Baseline,Min, Max, Mean], T90% [SpO2<90%], T89% [SpO2<89%],T88% [SpO2<88%], T5% [ΔSpO2>5%], ΔIndex [12s], SpO2 Events, Pulse rate events [Bradycardia, Tachycardia], Step counter, Movement [VMU], Recording time, Analysis time.
 
Sleep analysis (specific parameters):
Body position, SpO2 Events, Desaturation index (ODI), Desaturation [Mean Value, Mean duration, Longest duration, Nadir Peak], ΔSpO2 [Min Drop, Max Drop], Total Pulse Variations, Pulse Rate Index, NOD89% [SpO2<89%; >5min], NOD4% [SpO2 Basale-4%; >5min], NOD90% [SpO2<90%; Nadir<86%; >5min].
 
6MWT (6 Minute Walk Test specific parameters):
O2-Gap, Estimated distance, Distance walked, Predicted distance [Min, Standard], TΔ2% [SpO2≥2%], TΔ4% [ΔSpO2≥4%], Time [Rest, Walking, Recovery], Desaturation Area/Distance.
 
Optional data entry:
Borg Dyspnea [Baseline, End, Change], Borg Fatigue [Baseline, End, Change], Arterial blood pressure [Systolic, Diastolic], Oxygen administered.
 
Bluetooth module technical specifications (optional):
Fully qualified Bluetooth v2.1+EDR.
SPP (serial port profile) and DUN (Dial-Up Networking Profile) for the direct connection with the internal modem of a mobile phone.
Dual role (master and slave).
GPRS-EDGE module technical specifications (optional):
Quad-Band 850/900/1800/1900 MHz.
EDGE (E-GPRS) multi-slot class 10.
GSM 850/900MHz power class 4 (33dBm).
GSM 1800/1900MHz power class 1 (30dBm).
Internal antenna (gain 2.42 dBi).
SMS MT, MO.
SMS CB.
SMS storage into SIM card.
Internet protocols: TCP/IP, SSMTP, FTP, HTTP, POP3.
Secure connection protocol: SSL.
Symmetric key encryption: DES, 3DES, RC2,RC4.
Asymmetric key encryption: RSA, DSS.
Certified: R&TTE, FCC, PTCRB.
Reviews for:
Spirotel Spirometer
This product has no reviews yet.