Cleartest® Coronavirus PRO rapid test 10 pieces, COVID-19 tests, made in Germany
Article number: C3 4700-10-N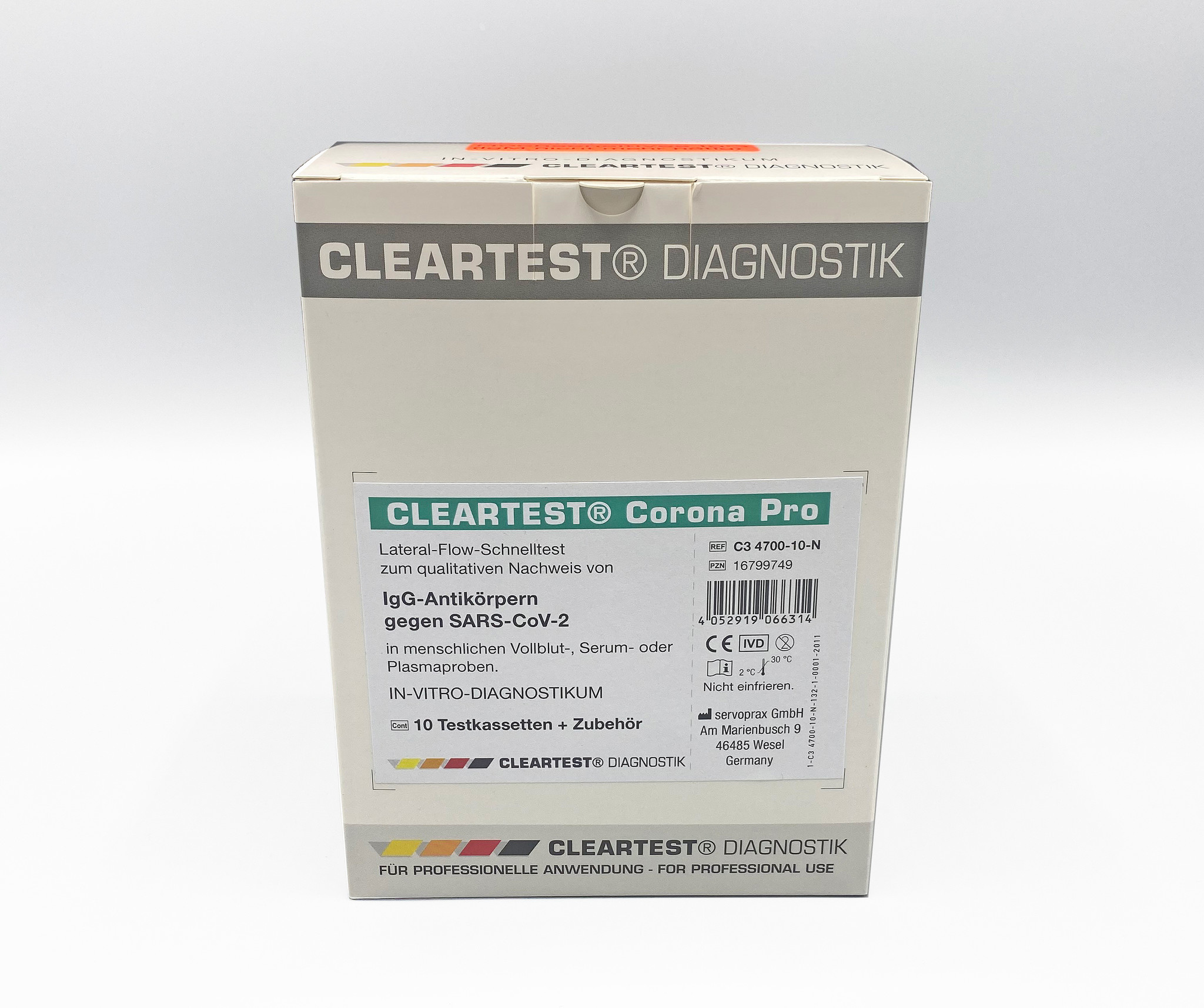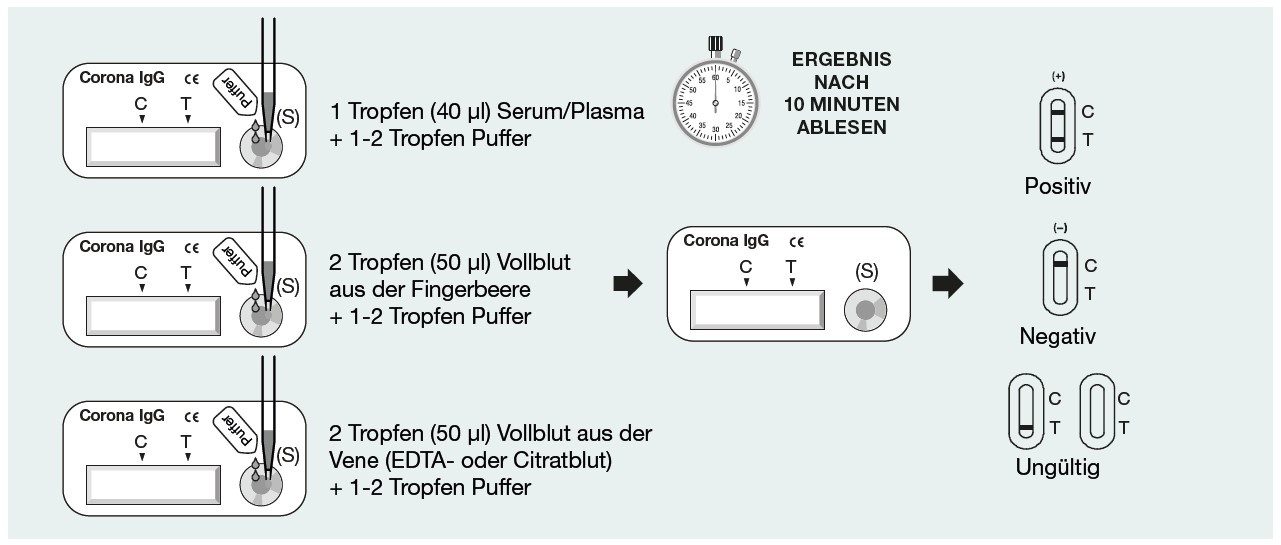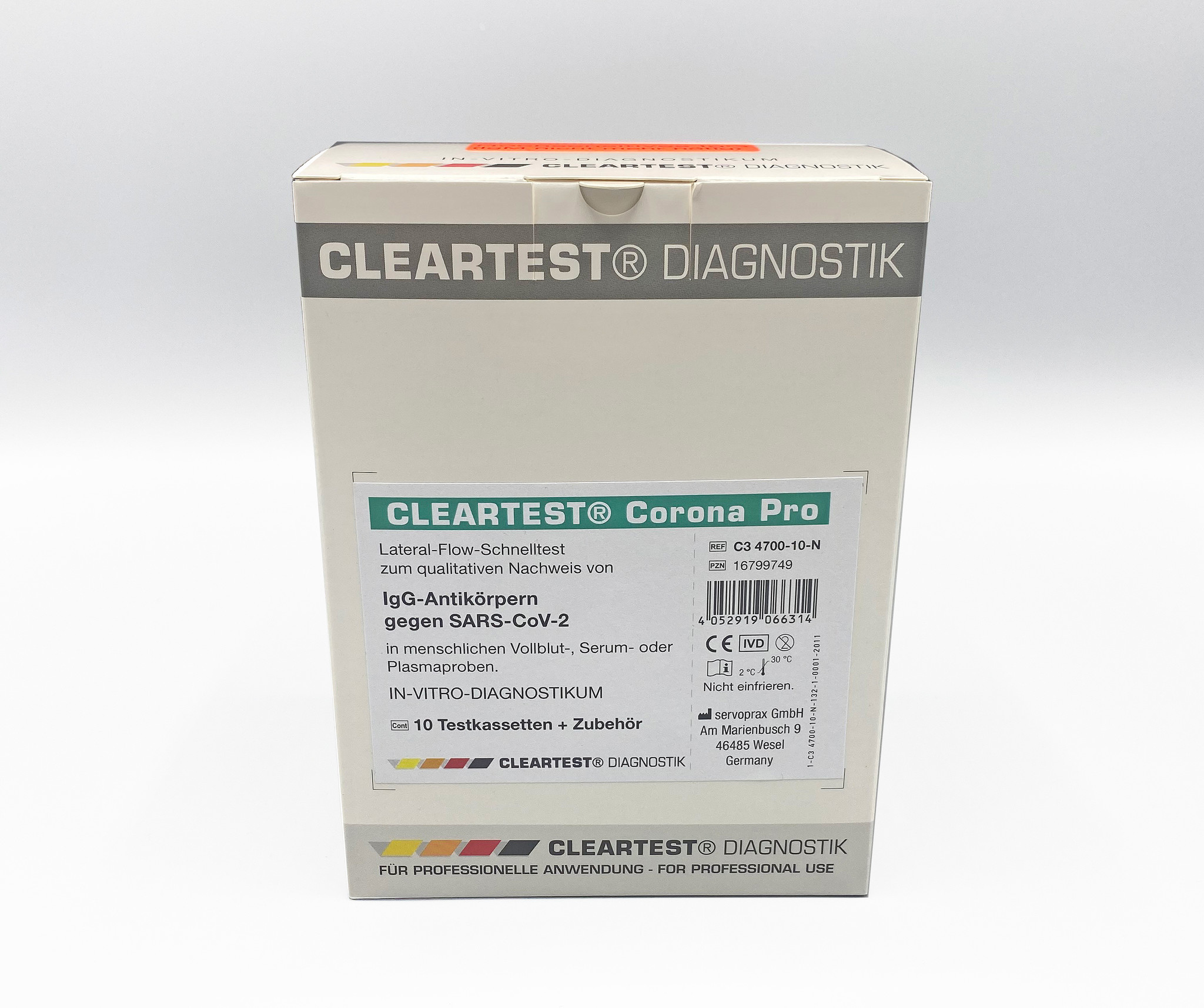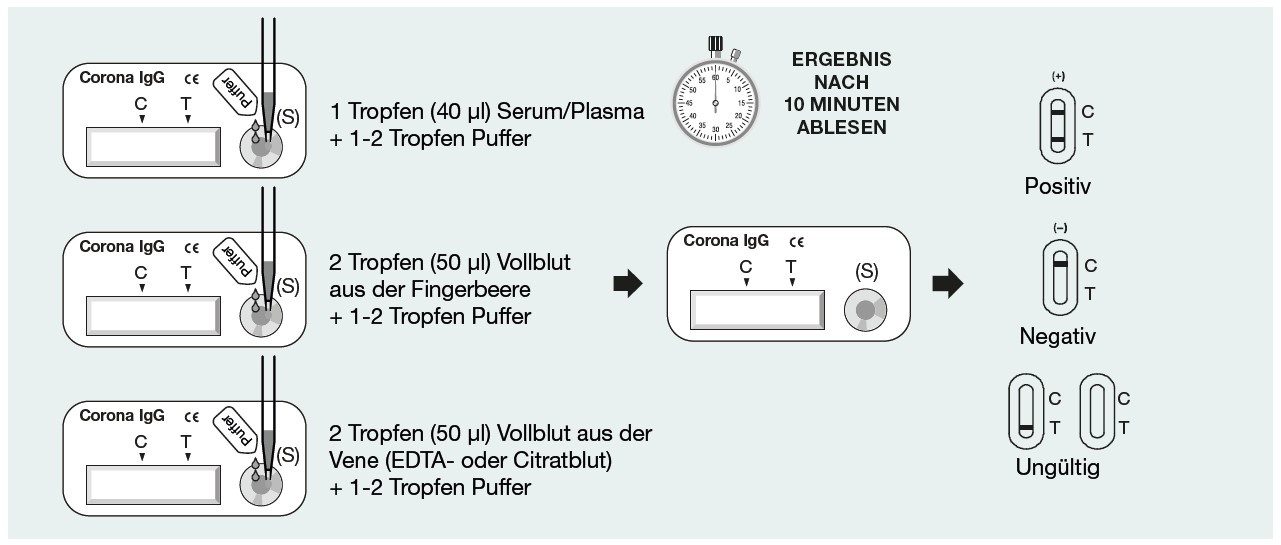 Rapid test for nCOV, coronavirus, by finger prick in 10 minutes. 2019-nCoV, SARS-CoV-2, COVID-19 virus.
Free shipping from € 100 excl VAT (only NL)

If ordered, in stock during business days before 3 pm, shipped the same day

Both for the professional and the consumer

Discounts of up to 25% for practitioners or general practice centers

Your practice can order on account
Cleartest® Coronavirus PRO rapid test 10 pieces, COVID-19 tests, made in Germany
For testing at the beginning of a COVID-19 infection, the antigen tests are suitable, click here.
The test is intended for professional use only. 
There are two types of tests, the test that detects the virus immediately, the antigen test at the onset of the disease and this test that checks whether antibodies against COVID-19 have been produced using an IgG and IgM test if the disease has been present for some time. However, both tests can be negative as long as you still have symptoms of COVID-19. Therefore, always ask a doctor about the result. Further explanations can be found below and in the test manual.
The Cleartest® is developed with a international team of researchers with the participation of the Jena Leibniz Institute of Photonic Technology (Leibniz IPHT) in Germany.
These tests are produced in Germany and have been extensively tested and found to be reliable. 
You must pay for the test immediately upon purchase, otherwise the order will be canceled.
A rapid test for the qualitative detection of IgG antibodies against 2019 nCoV in fingerstick whole blood. For professional in vitro diagnostic use only.
Test result after 10 minutes.
This test is intended for professionals only. Medical Vakhandel excludes any liability directly or indirectly through incorrect use or interpretation of the test. You declare upon purchase that you exclude any form of liability and that the test is carried out by healthcare professionals.
Tests cannot be returned due to quality reasons.
CE certified according to directive 98/79 / EC
Manufacturer:
SERVOPRAX Germany
Delivery:
10 rapid tests
Buffer fluid
10 alcohol swabs
10 capillaries
10 lancets
10 waste bags
Manual, Dutch, German
PublicitY:
Corona-Schnelltest braucht zehn Minuten
Thuringer research team develops antibody test for coronavirus
[LIMITATIONS]
1. The 2019-nCoV lgG Rapid Test Cassette (Fingerstick Whole Blood) is for in vitro diagnostic use only. This test should be used for detection of lgG antibody to 2019-nCoV in Fingerstick Whole Blood specimens. Neither the quantitative value nor the rate of increase in the concentration of lgG antibodies to 2019-nCoV can be determined by this qualitative test.
2. The 2019-nCoV IgG Rapid Test Cassette (Fingerstick Whole Blood) will only indicate the presence of lgG antibodies to 2019-nCoV in the specimen and should not be used as the sole criteria for the diagnosis of 2019-nCoV infections.
3. As with all diagnostic tests, all results must be considered with other clinical information available to the physician.
4. If the test result is negative and clinical symptoms persist, additional follow-up testing using other clinical methods is suggested. A negative result at any time does not preclude the possibility of 2019-nCoV infection.
Reviews for:
Cleartest® Coronavirus PRO rapid test 10 pieces, COVID-19 tests, made in Germany
This product has no reviews yet.
Related products
Make sure to take a look at these related products