Bacillol® Tissues surface cleaning for your practice, stethoscopes, examination couches, desk etc - Copy
Article number: E1 975670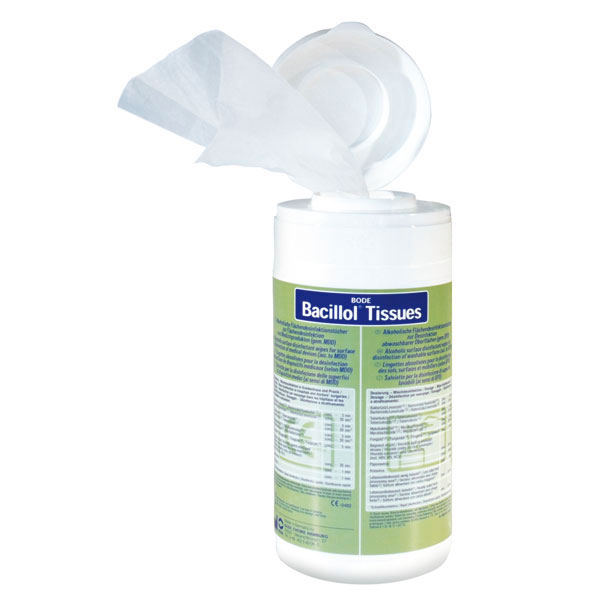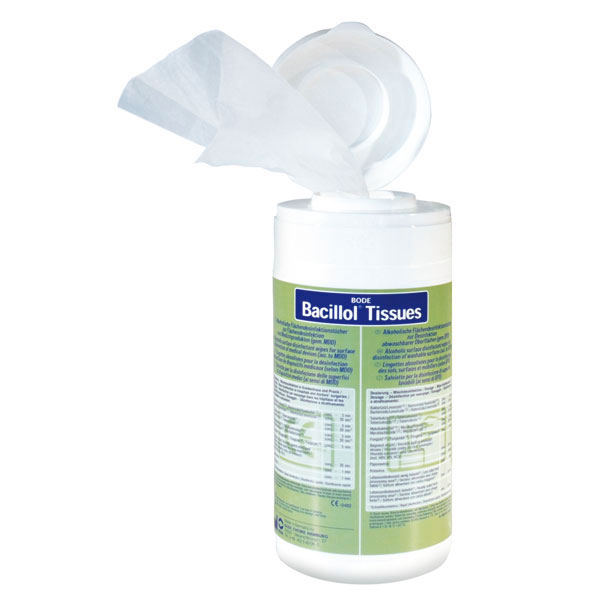 Free shipping from € 100 excl VAT (only NL)

If ordered in stock before 3 pm, shipped the same day

Both for the professional and the consumer

Discounts of up to 25% for practitioners or general practice centers

Your practice can order on account
Bacillol® Tissues surface cleaning for your practice, stethoscopes, examination couches, desk etc - Copy
Inanimate surfaces have been found to be a major source of contamination and infection. In order to eliminate small and difficult to access surfaces as a source of contamination and infections, the disinfection is best performed as a spray / wipe disinfection or spray disinfection with a fast-acting disinfectant based on alcohol.
Characteristics:
ready-to-use disinfectant wipes

absorbent and tear resistant

PET fleece

fast acting

very material-friendly; also suitable

for sensitive materials

such as Makrolon®, Plexiglas® and polysulphone

simple per piece

does not contain aldehyde, fragrances and

dyes.
Composition
Active ingredients:
ethanol 140

mg / g; propan-2-ol 100 mg / g;

propan-1-ol 60 mg / g, N-alkyl-aminopropyl-

glycine (CAS number 1397

34-65-9) 5 mg / g.
Microbiology
bactericidal

yeasticidal

virucide against enveloped viruses

(incl. HBV, HIV, HCV)

MNV

polyomavirus and rotavirus
Areas of application
Bacillol® 30 Tissues are suitable for easy, material-friendly and quick disinfection of surfaces. B eeldschermen and keyboards or touch pads of sensitive communication equipment such as mobile phones or computers sensitive surfaces - for example from Makrolon®, acrylic glass, polysulfone and imitation leather - delicate surfaces in healthcare facilities in kitchens, food processing units and other areas that come into contact with sensitive products. Medical equipment and facilities covered by the Medical Devices Directive, for example: monitors and keyboards or touchpads of mobile and stationary equipment such as control systems, delicate, non- invasive medical devices such as mammography equipment, lamps in operating rooms.
Directions for use
Wipe the surface carefully with Bacillol® Tissues. For an optimal disinfection result, the surface must be completely moistened.
Thanks to its composition, Bacillol ® Tissues can also be used without gloves , if infection and occupational safety measures allow. Do not use for cleaning the skin. Discard used wipes . To prevent the wipes from drying out, close the packaging immediately after use.
Do not use for disinfecting invasive medical devices. For hard surfaces: contact time of 30 seconds
Reviews for:
Bacillol® Tissues surface cleaning for your practice, stethoscopes, examination couches, desk etc - Copy
This product has no reviews yet.
Related products
Make sure to take a look at these related products